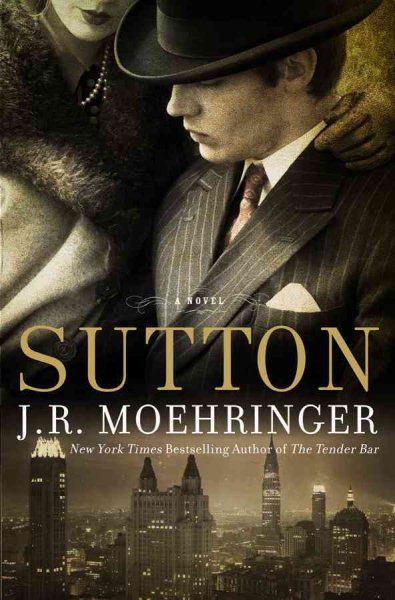 A day late ... Friday was a perfect day for gardening...
J. R. Moehringer is an accomplished author having written a biography,
Agassi
, and an autobiography,
The Tender Bar.
Sutton
is Moehringer's first novel.
Sutton
is a fictionalized account of the life of the famous bank robber, Willie "The Actor" Sutton. At times funny, poignant, and tragic this is a character study of a troubled young man making bad choices and suffering the consequences. The book is also an interesting study of the cyclical nature of hard times and recessions, and an indictment of the continuing greed and destructive nature of banks. And ultimately a reminder of the truths and lies we tell ourselves to survive and the grey area in the middle where we spend our lives. A really good story.
I generally do not like fictionalized accounts of historical figures. They tend to blend fact and fiction and leave distorted images in the minds of readers. Moehringer sets this book up differently. Telling the readers from the start that this is his wish for what Willie Sutton's life might have been like. And it is a really good story. Moehringer tells the story in flashbacks as an older Willie Sutton revisits places from his past and remembers his life story as he travels around New York City on Christmas day with a reporter and a photographer determined to get an exclusive.
I listened to the audio version narrated by Dylan Baker. His narration was excellent. I absolutely fell into the story and fell in love with the gravelly Brooklyn accent Baker used for Willie. I tried reading the print version but found it more difficult. The jumps from past to present (print to italic) were sometimes jarring and Moehringer's choice to eschew quotation marks made following the dialogue difficult. Having tried both I recommend the audio over the print version. On the flip side, several members of the book discussion group I attended said that once they read the first few pages they had no problem with the lack of quotations. So I guess the choice is up to you.
A note for those with delicate sensibilities: If you have issues with foul language this is not the book for you ... the main characters of this story are gangsters, street thugs, Brooklyn boys, and journalists ... their language reflects that.
If you liked Sutton, you might also like:
A Tree Grows in Brooklyn by Betty Smith
True Story of the Kelly Gang by Peter Carey
Legs by William Kennedy
The Town by Chuck Hogan
The Tender Bar by J. R. Moehringer
Crimes of New York edited by Clint Willis
Hard Times by Studs Terkel