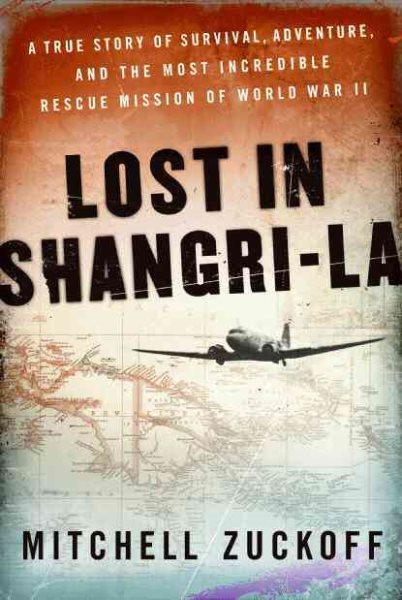 On Mother's Day, in May 1945 an American military plane crashed in the mountains of New Guinea. The crash killed almost everyone on board and stranded three survivors, including one female WAC, in a remote jungle surrounded by definitely unfriendly Japanese troops and possibly unfriendly and cannibalistic natives. This is the true story of their survival and ultimate rescue from the lost valley of Shangri-La.
Lost in Shangri-La: A True Story of Survival, Adventure, and the Most Incredible Rescue Mission of World War II
lives up to it's title. Author Mitchell Zuckoff did plenty of research, combing military records and newspaper accounts for details of the crash and it's aftermath. In addition, he interviewed survivors, rescuers, and New Guinea natives for their recollections. He puts it all together into a page-turning narrative complete with vivid descriptions and quotes from the survivors describing their experiences in their own words.
I listened to the audio version, narrated by Zuckoff, himself. He does a good job with the narration and tells the story in a crisp, clear style.
Narrative non-fiction tells a true story in a literary style that makes the stories flow. If you like your non-fiction to read like fiction try these:
The Girls of Murder City: Fame, Lust, and the Beautiful Killers Who Inspired Chicago
by Douglas Perry
Destiny of the Republic: A Tale of Madness, Medicine, and the Murder of a President
by Candice Millard
The Black Count: Glory, Revolution, Betrayal and the Real Count of Monte Cristo
by Tom Reiss, read my review of
The Black Count
here
.
Sin in the Second City: Madams, Ministers, Playboys, an the Battle for America's Soul
by Karen Abbott
The Poisoner's Handbook: Murder and the Birth of Forensic Medicine in Jazz Age New York
by Deborah Blum
For more true World War II adventures try these:
In the Garden of Beasts: Love, Terror, and an American Family in Hitler's Berlin
by Erik Larson
1942: The Year that Tried Men's Souls
by Winston Groom
First Men In: US Paratroopers and the Fight to Save D-Day
by Ed Ruggero
Unbroken: A World War II Airman's Story of Survival, Resilience, and Redemption
by Laura Hillenbrand