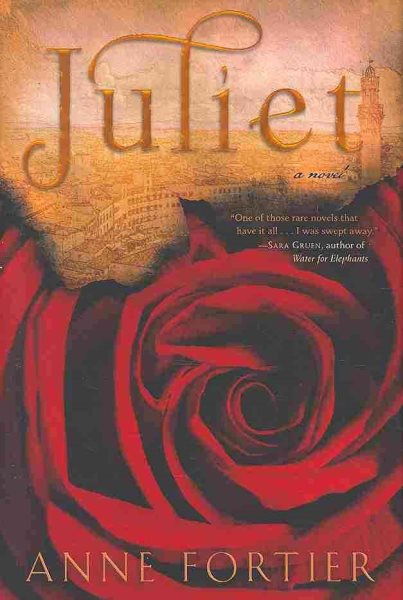 Juliet
is Anne Fortier's debut novel. It is a work of contemporary and historical fiction telling two parallel stories. Julie Jacobs is 25 years old when her Aunt Rose dies and instead of leaving her estate for Julie and her twin sister Janice to divide equally, as she had always promised to do, she leaves the estate to Janice. To Julie she leaves a note, a key to a safety deposit box in a bank in Siena, Italy, and a mystery hundreds of years in the making.
Julie soon learns that she and Janice were born Giulietta and Giannozza Tolomei and their distant ancestor, the original Giulietta Tolomei's tragic life and death was the true inspiration for Shakespeare's Romeo and Juliet.
The twins were told that their parents died in a car crash when the girls were 3 years old. Now Julie discovers that this is not exactly the whole truth, though their parents are dead, the circumstances were suspicious. And a member of Solembini clan, rivals to the Tolomeis for hundreds of years could be responsible.
When Julie travels to Siena unable to speak a word of Italian the first people she meets are Eva Maria Solembini and her handsome, but aloof godson, Alessandro. Eva Maria is fascinated by Julie's story and eager to help her learn more about her past, but Julie can't help but wonder why. And why is Alessandro so distant and suspicious of her motives? The safety deposit box holds no treasure, but a box full of papers and diaries. As Julie sifts through this memorabilia she discovers it holds the key not only to a fabulous treasure but also to unlocking the mystery surrounding the ancient tragedy of Giulietta and Romeo. If she plays her cards right, Julie could finally find a way to end the infamous "plague on both your houses" which still curses both the Tolomeis and the Solembinis or she could end up another victim to the tragic curse.
Fortier's prose is rich and evocative, if perhaps a bit overlong, as she weaves the two stories together. The book is well researched and thoroughly entertaining. A fascinating look beyond the story of Romeo and Juliet.
For more books based on Shakespeare's classic plays check out this list:
Fiction Based on Shakespeare
from the New York Public Library.
If you liked
Juliet
, you might like these:
The DaVinci Code
by Dan Brown
The Thirteenth Tale
by Diane Setterfield
Violets of March
by Sarah Jio
Map of Lost Memories
by Kim Fay
The Birth of Venus
by Sarah Dunant
The Book of Madness and Cures
by Regina O'Melveny