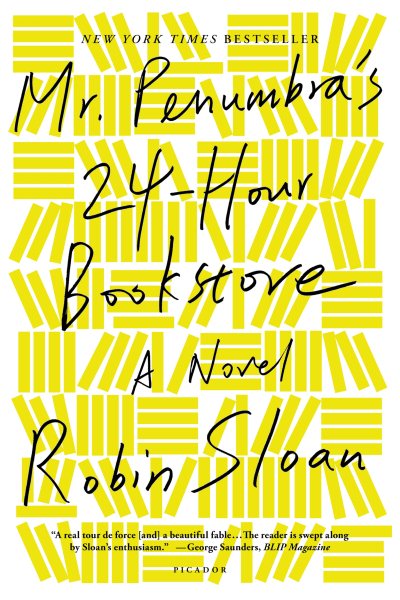 Mr. Penumbra's 24-Hour Bookstore
By Robin Sloan
I finished Wednesday. The book discussion was Thursday. That's good. The discussion was great. Not too many attendees, but everyone loved the book and thanked me for recommending it. Is there higher praise for a librarian? I don't think so.
Anyway ...
Clay Jannon is a suddenly downsized computer programmer desperately looking for gainful employment when he stumbles upon Mr. Penumbra's 24-Hour Bookstore. Clay soon learns that Penumbra's is unlike any other bookstore he's ever seen and though he's been warned not to snoop, his curiosity gets the best of him. Mr. Penumbra's shop holds the key to a mystery that people have been trying to solve for centuries and Clay thinks he might just have a new way to find the answer.
The story is an homage to books and the printed word and at the same time relies heavily on technology and all things Interwebs. In a real life mirror of his favorite fantasy adventure novels, Clay calls in his friends to help him use the power of computers and 21st century technology on his quest to help Mr. Penumbra and solve the mystery.
Mr. Penumbra's 24-Hour Bookstore
won the 2013 Alex award from YALSA (Young Adult Library Services Association). The award is given to adult books that have a special appeal to young adults.
If you like this book, you may like:
Ready Player One
by Ernest Cline
The Eyre Affair
by Jasper Fforde